LABORATORY
Our hospital is equipped to do many laboratory tests. In fact, the hospital recently upgraded the lab with equipment that can give us your pet's complete blood profile in just minutes. We can analyze tissue samples, blood, urine, stool, skin scrapings, etc.
We also use several outside laboratories for more comprehensive and specialized tests. Depending on the type of test that is needed, we can have results for you the same day that you visit or if the lab tests are very complicated, we will get the results to you as soon as they become available to us. We will always make calls to your home to update you on any lab test that has come in for your pet.
Blood and tissue analysis is very important. When a doctor encourages you to have these samples tested from your pet, consider it carefully before declining. The doctors try to give you all the information that they can on your pet's condition. Blood and tissue analysis is required to give you that specific look into your pet's health that we wouldn't be able to get by just a physical exam.

"WHY YOU SHOULD ASK FOR LAB TESTING"
Look at liver, kidney or other organ function before a veterinary drug is prescribed.
Eliminate or evaluate any nutritional issues related to your pets diet.
To identify the presence of bacteria, viruses, or parasites before we treat your pet with drugs or a new diet.
To ensure that the right dosage of medications are working for your pet and have achieved good working blood levels.
For more information on laboratory tests, visit Veterinary Partner at www.veterinarypartner.com.
DIAGNOSTICS
The term "diagnostics" refers to any type of equipment, research, analysis, test, or examination tool that would help us discover how healthy your pet is internally or externally. At our animal hospital, we have several pieces of medical equipment and devices that we can use to determine exactly what is going on with your pet.

Pets are just like babies as they cannot speak and tell us what is wrong or the exact location of a health problem. We always look for outward clues when diagnosing your pet such as their coat, the eyes, the skin, teeth & gums, and general disposition of the animal. Internal things like breathing sounds from the lungs, their heart beat, and noises in the digestive tract also give us internal clues to an animal's health status.
DIGITAL X-RAY
We offer digital x-ray which has the following benefits:
Faster results
Greatly improved detail
Less exposures
Faster radiology consults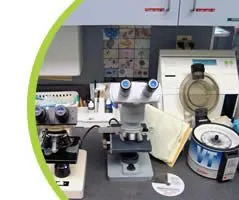 Sometimes though, we need more answers. That's when we rely on our more sophisticated diagnostic tools to help us out. Some of the things we commonly use to better serve you and your pet are:
CBC for determining infections, anemia and platelet deficiencies
Index Blood Chemistry Analyzer
Laser-Flow Complete Blood Count Analyzer
Microscopes for evaluating skin, ear and fecal samples for infections and parasites
Incubator for urine and infection cultures and antibiotic sensitivities
Endoscopy for esophagus and colon exams
Ultrasound for cardiac and abdomen evaluations
Dental X-ray to diagnoze jaw fractures, tooth abscesses and cancers